Welcome to The Tool Connection Limited.
---
Our tool range specialises in the automotive sector and our products are available through automotive wholesale outlets, motor factors, independent retailers, hardware stores and van sales. All our brands are well known worldwide and acclaimed for their quality, real value for money and backed up by a technical service that is second to none.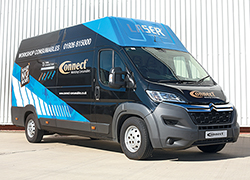 See the UK's most dynamic consumables range first hand with a visit from the new Connect Workshop Consumables Tech Van
Monday 21 September 2020
A new addition to the Tool Connection's fleet of Tech Vans has just been launched — the Connect Workshop Consumables van will complement the ever expanding offering from the Tool Connection which will demonstrate the... read more
---
A shrinking hammer that actually works!
Friday 18 September 2020
Body repair specialists Power-TEC have just released a new shrinking hammer (part number 92596) into their extensive range of bodyshop tools and equipment. This is a shrinking hammer that actually works!The spirally... read more
---